Wrap It Up: Creative Structural Packaging Design is coming soon!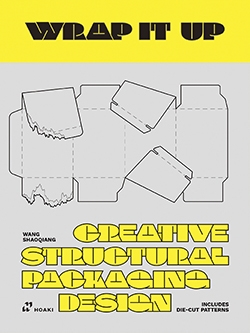 The book contains:
1. Four chapters to explore packaging design from different perspectives—structures, materials, visuals and die-cut patterns,
offering a comprehensive review of packaging design;
2. 106 design agencies and designers from all over the world with diverse styles;
3. 144 mind-blowing packaging projects for products ranging from food to selfcare products, from daily necessities to gifts;
4. An information chart for each project, introducing the designing elements in detail and elaborates on the
designing approach;
5. 26 die-cut patterns for free downloading.
Introduction:
Packaging prepares goods for sale and use. To attract consumers at first sight, a striking and influential packaging is indispensable. Wrap It Up: Creative Structural Packaging Design features creative and innovative packaging designs and shares the basic principles of packaging from different perspectives, namely structures, materials and visual design. With extra die-cut patterns included at the end of the book, it also offers readers hands-on experiences of wrapping.
Contents:
Chapter 1 Packaging with Creative Structures
As one of the packaging essentials, packaging structures play a significant role in the process of packaging. A good packaging structure infuses new blood into the product and sparks consumers' interest to explore the product it conceals. This chapter discusses the basic functions of packaging structure and showcases innovative and delicate packaging design. Die-cut patterns are included for specific projects.
Chapter 2 Packaging with Innovative Materials
There are a lot of materials to be applied in the process of packaging, among which the most important ones are metals, glasses, papers, cartons, plastics, and woods. Somehow, people tend to neglect the importance of packaging materials without noticing that a breakthrough in packaging materials will be a big surprise. This chapter reviews two approaches to innovation in packaging materials and provides an overview of the application of different materials in packaging.
Chapter 3 Packaging with Impressive Visuals
While shopping, the first thing that catches consumers' eyes must be the visual effect of a product. Shape, colour, typography and various graphic elements of packaging design collaborate to visualise the product's nature and value, stimulating consumers' curiosity as well as communicating the key information of the products. This chapter introduces how visual language carries information in packaging design and displays impressive packages that consumers can hardly take their eyes off.
Chapter 4 Die-Cut Patterns
Complex as it is, innovative structure develops from a simple template made of paper and board. As the prototype of packaging structures, templates indicate how the patterns are die-cut and how the packages are constructed. This section unfolds the packages and shows 26 templates of creative packaging structures inside out.
The die-cut templates can be downloaded and used for free, for personal and non-commercial use only. (If commercial use is involved, please contact the owner(s) for approvals. Sandu Publishing will not be responsible for any loss caused by unapproved commercial use.)
Find the password in the corresponding part on the book and download the document from:Die-Cut Patterns_test.rar